Hello Starlight-Readers. Today, I thought I'd share some absolutely gorgeous space themed book covers with you! I don't own all of these books, but I'd like to! As you can probably guess from the name and background of my blog, I absolutely love space and stars, so it shouldn't be surprising that some of my favorite book cover designs have to do with space!
---
1. Starfish – Akemi Dawn Bowman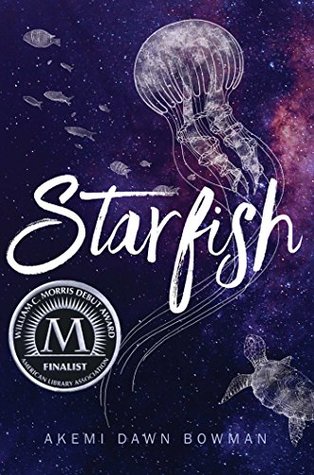 It's no secret that I love jellyfish! This was actually the cover that inspired me to write up this list. The juxtaposition of sea creatures among the stars is something that I've personally loved for a long time, so I was so happy to see this!
2. These Broken Stars – Amie Kaufman and Meagan Spooner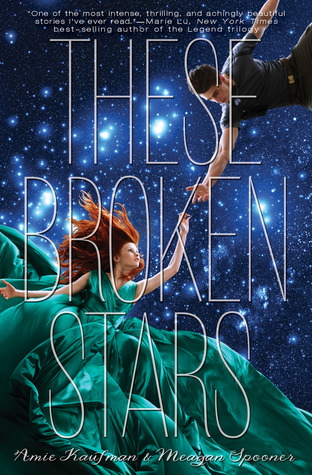 I really love this cover! It has a nice composition that moves your eye across the image. The title distracts a bit from the art, and it's kind of hard to read the author's name, but it's still an amazing book cover.
The juxtaposition in this cover is astounding! I love how the title is sort of a reverse gradient of the cover art itself. There's not too much I can say here; It's classy and romantic with a science fiction twist.
The colors on this book cover are amazing! I love astrology, so this book with it's constellations and galaxy colors was a must-buy for me! The other books in this series are just as striking as this one.
5. For Darkness Shows the Stars – Diana Peterfreund
I absolutely love the gold text against the dark background! It really pops, and looks like its glowing and shining, even when viewed on a screen. I cann only imagine how the finished book must look – absolutely gorgeous!
The cover to Starglass didn't immediately stand out to me, and I actually debated adding it to this list. However, the longer I looked at it, the more it grew on me. While it doesn't have bright, incredibly saturated colors in its galaxy, I think that the muted colors work in its favor. It conveys something different than most sci-fi covers, and I like that. I actually really want to read this book now.
7. Across the Universe – Beth Revis
Across the Universe is one of the most beautiful book covers I've ever seen. The colors stood out to me first. I saw it from across the room in a bookstore and actually put down my copy of Matched by Ally Condie to buy it. (No worries, I got my copy of Matched a little bit later) Beautiful galaxies and a spiderman style kiss? I absolutely love it!
---
Thanks for reading! What are some of your favorite space-themed books?
---
Follow me on Instagram for book pictures, mini reviews, and more!
Use my code STARLIGHT10 for 10% off your order at Beacon Book Box!
Use my code STARLIGHTREADS20 for 20% off your order at Literary Book Gifts