Next Tuesday, one of my most highly anticipated books of the year comes out, Vespertine by Margaret Rogerson. As we wait for this dark fantasy novel to come out, let's take a moment to look over the various editions and special editions that you can get of this book! Most of these options are still available at the time of posting, but don't delay if you like one! It's often quite hard to find special edition books at reasonable prices later on, so it's usually a better idea to just preorder them early if you can.
---
Standard US Edition
The OG cover, displaying Charlie Bowater's original art! I've been in love with this cover art since it was first announced. It's so wonderfully cool-toned and mysterious and spooky and I just can't wait to have this on my shelf next to Margaret's other books. This will be the easiest edition to get in the US, as you can pick it up at any bookstore or online.
Standard UK Edition
The UK edition is quite the contrast from the other editions! I'll admit that it's my least favorite edition (I prefer darker covers!) but I do give the UK publishing team props for doing something so different. I feel that because the art was initially made with the dark background and the misty, glowing lighting conditions, it just doesn't look as natural as the others, but that's just my opinion. 🙂 This will be the easiest edition to find in the UK.
Owlcrate Edition
Owlcrate has previously featured Margaret's book, Sorcery of Thorns, in one of their monthly boxes, so I'm not surprised to see that they've created their own special edition of Vespertine. They opted to alter the colorway of the background to a teal shade, and also shifted the text color to a bronzy gold, which stands out well, especially on the spine. The teal colorway actually helps the details in the background show up a bit better (in the mockup, at least.) Also, all copies of this edition will be signed! Just keep in mind that they're in limited supply, so act fast if you're interested.
Bookish Box
Bookish Box just announced their exclusive cover yesterday, and I'm sold! I personally love blues and purples, and I just love how haunting the new colorway makes the book look. It also comes with an alternative cover designed by @avendellart. It borrows a lot from the original cove, and gives off vibes of the lighter UK edition. Both editions go really well with the sprayed edges, which in the mockup appear to be a silvery-blue shade. At the time of posting, this edition is still available on The Bookish Box site for new subscribes, and will be available until October 12th or when boxes sell out, whatever comes first.
Fairyloot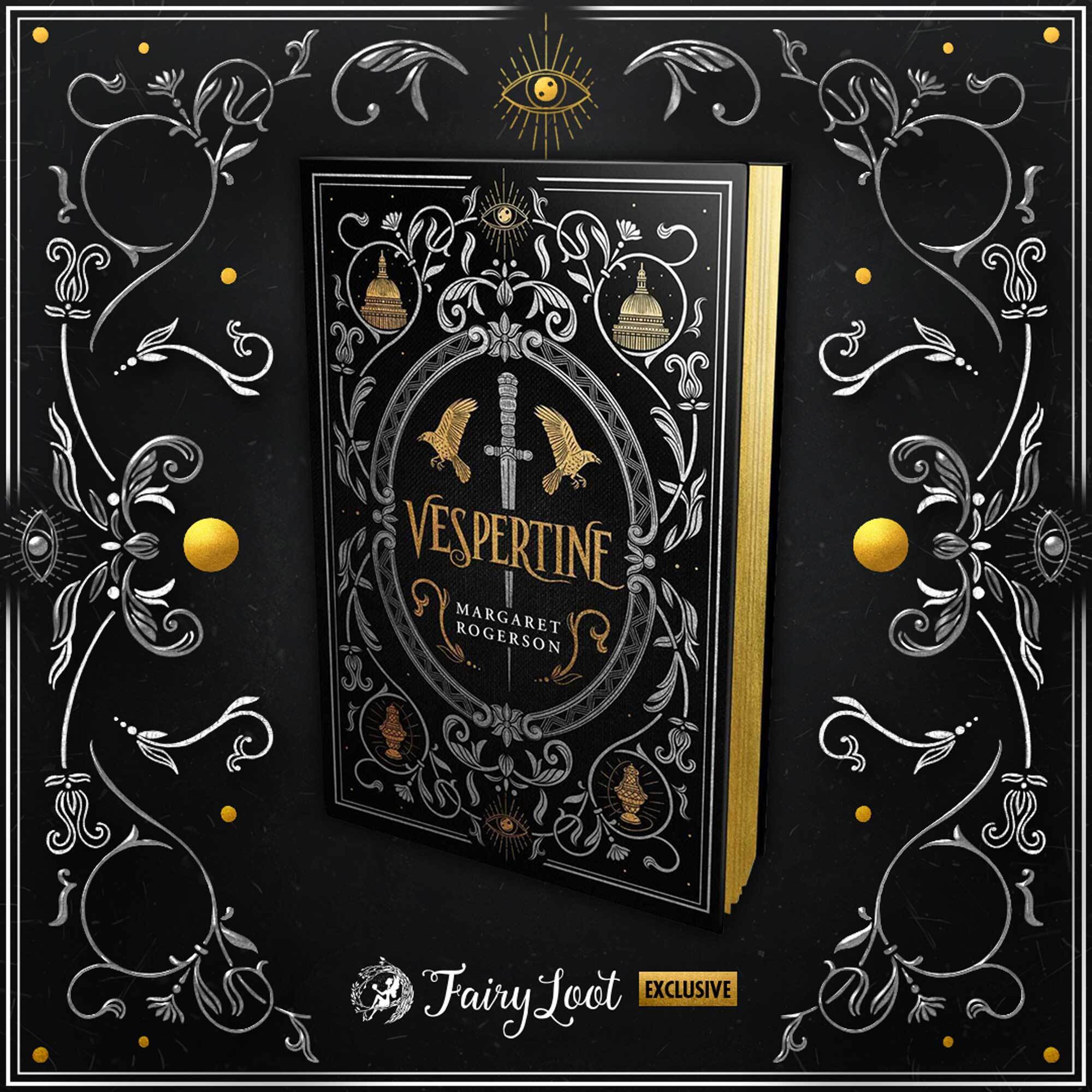 This is the edition that excites me the most! As I mentioned in a recent To Buy or Not to Buy post, Fairyloot went with a completely redesigned cover that makes me think of ornate vintage books. It will also have gold sprayed edges. Additionally, they'll be releasing editions of the sequel to Vespertine and Margaret's other two books in the same style!!! I believe that this edition already sold out, but perhaps Fairyloot will have additional copies in a past items sale someday.
---
What do you think about these editions? Will you be picking up a copy? If so, which one? Let me know in the comments below! Thanks for reading!
---
Follow me on Instagram for book pictures, mini-reviews, and more!
Check out my shop, Total Bookish Eclipse!