Hey all! In the spirit of my last post about FOMO and spending more rationalizing my spending decisions, I decided to start up a new series where I'll look at tempting monthly book subscription boxes for special editions and rationalize why I am or am not getting it. I'm the type who likes to type/talk things out in order to process things, so while these posts are mainly beneficial to me (and my wallet) hopefully you'll be able to find some use in these posts as well! If anything, you can apply my same style of thinking to your own purchases! (If you find that I ramble on for too long, don't worry! I'll include a condensed pros and cons list toward the end, right before the final verdict.)
As usual, all of the opinions in this post are my own, so please take them with a grain of salt, and don't be offended if my least favorite fandom is your favorite. We all have our own preferences. 🙂
SPOILER ALERT! These posts will name the included book of the month, which often isn't announced in advance. Please don't continue to read if you want to be surprised by the book.
---
The Box Details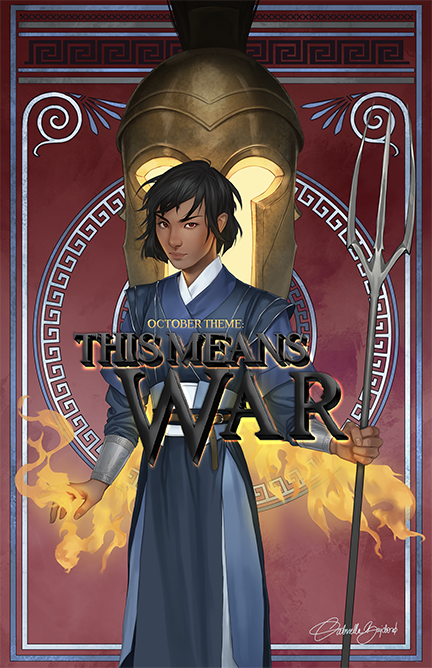 Company: Faecrate
Theme: This Means War
Month: October 2020
Information Link: https://faecrate.com/blogs/current-theme/october-1
Cost: $29.99 + Shipping & Tax
Included Fandoms: Shielded, Kingdom of Souls, An Ember in the Ashes, and more (includes ACOTAR and The Poppy Wars)
Anticipated Book of the Month: Firefrost by Camile Longley
Special Book Features: Emboss design by Noverantale, art on the reverse side of the dust jacket by Gabriella Bujdoso, sprayed edges, and a signed bookplate
Early Reveals: Feyre Plushie and An Ember in the Ashes Polaroid
---
The Rationale
Faecrate is one of the few monthly boxes that I've yet to try in my 2+ years on Bookstagram. I got their Hangover Recovery Wicked King box back in early 2019, and a good friend of mine gave me several items from their ACOTAR box. All of their hangover recovery boxes thus far have included character plushies, which are super cute. I have the plushies for Jude, Cardan, and Rhysand on my bookshelf!
Why am I talking so much about plushies? Well, Faecrate has already announced that they'll be including an adorable Feyre plushie in their October 2020 box, which makes my decision to get this box soooo easy. (TBH, my decision has already been made.) When my friend gave me the Rhysand plushie, I remember telling my mom "When Faecrate releases the Feyre plushie, I will get her." I had expected them to just sell her separately. Putting it in a box is a bit weird, but I don't care. I want this plushie.
I've been seeing so many early ISOs for the plushie on B/S/T groups, so I can tell that it's going to be an absolute circus to try to get it for any sort of reasonable price. When I got my Jude plushie in one of these groups I got super lucky to find her for around $25. Some people have paid crazy amounts for these plushies, so I figure that paying the $29.99 for this full box is definitely worth it. I can always attempt to sell off the extras. (Yes, in this case I'm considering the book to be an extra! The plushie is my priority!)
For this plushie alone, I'm willing to overlook Faecrate's less than stellar reputation (boxes often ship late, apparently customer service isn't the best, quality isn't necessarily the highest, etc.) I'm very excited to see what else will come in the box, and I'm excited to see the book too!
---
Pros
FEYRE PLUSHIE!!!
Highly sought after item (could be sold/traded if I ever want to)
Exclusive edition of a lesser known book (could be a new favorite!)
F E Y R E
Cons
Might come late
Items might not be the highest quality
Not really interested in Polaroid print item
---
The Verdict
Yes.
I've already paid for it. This box will be mine next month (or potentially November, depending on when it ships.) Expect a full boxing on IG and on here as soon as I get it.
I'M SO EXCITED!
---
Thanks for reading! Stay tuned for more fun content!
---
Follow me on Instagram for book pictures, mini-reviews, and more!
Check out my shop, Total Bookish Eclipse!