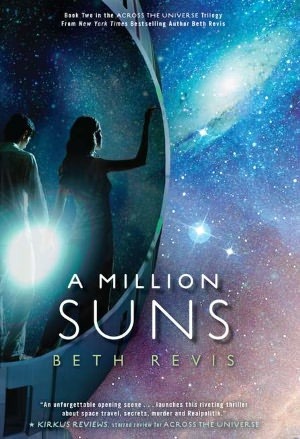 Date Started: 6/3/19
Date Finished:  6/9/19
Publication Date: 1/10/12
Genre: YA Scifi
POV: Dual 1st Person POVs
Page Count: 386 pages
Rating: 5/5
---
Review:
A Million Suns picks up 3 months after the conclusion of Across the Universe, which I recently reviewed here. Elder has assumed leadership of the ship and is determined to lead without the Phydus, the drug that once controlled the minds of most of the ship's inhabitants. However, without the drug, he finds that it's much harder to lead the ship, especially as some people start to rise up in opposition to his rule. Meanwhile, Amy discovers clues left by Orion that will lead her (and Elder) to the biggest secrets of the ship.
It's been a long time since I last read this book (Probably in 2012 or 2013.) While I remembered one twist, I had forgotten a lot about this book, which was actually a good thing for the sake of this reread and review. I just finished and simply had to start writing my review right away before any of the details escaped.
I'm going to start out by saying that this book, the second in the series, was better than the first. The mystery was better. The suspense was better. The characters were better. The stakes were higher than ever. In so many ways, Beth Revis's writing improved drastically in a year.
Let's start off with the mystery. Obviously, I won't spoil anything, but I'll just say that I love that there were multiple secrets and mysteries to unravel as we went along. Orion set up what can best be described as a "mystery scavenger hunt," and I thought that it was brilliant. It helps to advance the plot and also keeps the reader so engaged in the clues. At times there were some clues that seemed a bit obvious (not sure if that was me remembering things from 6 years ago) but then again, some clues had me completely stumped until the characters figured it out, so I think it balanced out fairly well. As with the first book, I had a bit of an issue with the big climactic scene, as again, it felt more like a big reveal/info dump. While I liked the twists learned there, I just wish that there had been a bit more of a build-up to what happened and why. There was really no way to guess what would happen! (Or maybe there was? I'm not the most well-versed in mystery.)
Plotwise, there's a lot more going on in A Million Suns than in Across the Universe. While Across the Universe was mainly about discovering the lies and secrets that Eldest was keeping hidden while stopping murders, this one is about following clues, discovering secrets, dealing with riots and mutiny, investigating a few murders, and some (finally!) blossoming romance between Amy and Elder. It's a lot, especially for two 16-year-olds, but Revis manages to fit it all in the story in a believable way. There are times when stress and frustration start to boil over in Elder, which really helped to make it seem more real. They're only human after all!
The twists and turns kept coming, and this book was definitely a page-turner more-or-less from the very first pages. I think that I hit a tiny lull at one point during the first quarter or so of the book, but then things take off and really don't settle… at all. The ending the book sets up the events of the next book, so you'll want to dive into it immediately. I know I will.
All-in-all, I have to give this one a 5/5, and I actually might start saying that this is my favorite book as opposed to Across the Universe. If you haven't yet read the series and are looking to, I highly recommend it, especially after my reread of A Million Suns. 
---
Thanks for reading!
---
Follow me on Instagram for book pictures, mini-reviews, and more!
Use my code STARLIGHT10 for 10% off your order at Wonderdame Bookmarks
Use my code STARLIGHT10 for 10% off your order at Phraseology Boutique
Use my code STARUNPLUG10 for 10% off your 3,6, or 12-month subscription for Unplugged Book Box
Use my code STARLIGHTREADS to save on your order at Fantasy Monthly
Use my code STARLIGHT10 for 10% off your order at Ignite English
Try out Grammarly via my affiliate link!