Hello everyone, and happy February! January was definitely a busy month. After a nice, relaxing vacation I settled back into the familiar grind of school and work. Finding a nice balance for social time, studying, and reading has been tricky, but things are finally settling down and I've found myself with a lot more time to read.
January saw the release of some books I've been quite excited for, such as The Wicked King and A Curse So Dark and Lonely. (I'll be getting those books very soon!) January also saw my lovely home state of Illinois dip down into record breaking temperatures that resulted in class cancellations, A.K.A. more reading time!
I'm really quite proud of both my blog and Bookstagram this month. On Bookstagram, I settled into a theme I really like, and it's only been getting better. On my blog, I've posted more consistently than ever. I've been feeling quite motivated as of late! Anyway, let's get into my monthly review:
---
What I Read:
1. Five Feet Apart – Rachael Lippincott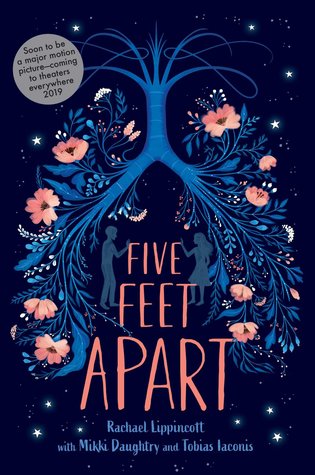 2. The Lost Sisters – Holly Black
3. A Story About Cancer (With A Happy Ending) – India Desjardins
4. Illuminae – Amie Kaufman and Jay Kristoff
4. Seven Places Without You – Juan Berrio
---
Subscription Boxes I Tried:
*The Faecrate Wicked King Box and Spearcraft January Box both got delayed! Luckily, they both should be in very soon, maybe next week! I'll include them in my February post.)
---
Bookish Items I Ordered:
1. My preorder pin for The Wicked King came in way sooner than I expected it to! It's quite pretty, and I can't wait to see what they do for Queen of Nothing.
2. After seeing a bunch of unboxings of the Owlcrate Wicked King Box, I couldn't resist buying the gorgeous rose gold pin from a Buy/Sell/Trade group on Facebook. It's so detailed!
3. While it's technically not an order, I got to choose some things for my second Wonderdame Bookmarks Rep Package! I'm really excited to get this and share it with you all very soon, because her bookmarks and candles are only getting better and better!
4. This is a spoiler for those who haven't gotten their January Beacon Book Box yet, but last night I couldn't resist buying the beautiful tapestry that was included in the box. I don't have pictures of it to post yet, but trust me, it's great!
---
That's about it for January! I'm pretty pleased with how my year started out, and I can't wait to see what what February brings!
Thanks for reading!
---
Follow me on Instagram for book pictures, mini reviews, and more!
Use my code STARLIGHT10 for 10% off your order at Wonderdame Bookmarks
Use my code STARLIGHT10 for 10% off your order at Spearcraft Book Box
Use my code STARLIGHT10 for 10% off your order at Ignite English
Use my code STARLIGHT10 for 10% off your order at The Book Quay
Use my code STARLIGHT10 for 10% off your order at Fella and Bella
Use my code STARLIGHTREADS20 for 20% off your order at Literary Book Gifts