Hello everyone, and Happy New Year! I hope 2019 brings tons of books and good fortune to you! Today, I'm here to share my January TBR (To Be Read)  list! I'm super excited to dive into this list, because I'm really excited to read these! Some of them are new releases, and others are books I've been putting off for ages! (I'm looking at you, Illuminae!) Without further ado, my TBR list!
---
Five Feet Apart – Rachael Lippincott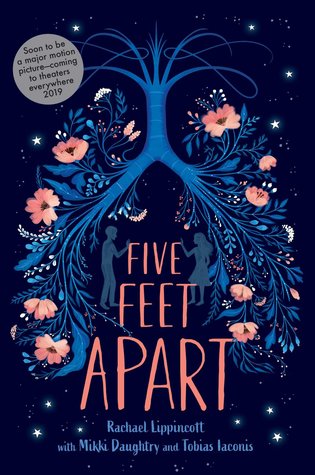 Surprise! I actually finished this one already! Five Feet Apart was my first read of 2018, and I loved it! I wanted to read it because the movie version comes out in a cute month, and it's also about cystic fibrosis. I don't want to say too much right now, but expect a full review soon!
Princess of Death – Cortney Pearson
I received an e-arc of this from the author via a Facebook group! The cover looks great, and who doesn't love pirates and plagues? It comes out on January 10th, so I'll definitely have it read and reviewed before then.
The Lost Sisters – Holly Black
 This novella is a companion to The Cruel Prince, written from Taryn's POV. I didn't really get a lot of Taryn in the first novel, so I'm excited to see what's revealed about her in this one. Maybe more about her secret relationship? I'll probably dive into this just before I start The Wicked King!
The Wicked King –  Holly Black
If you follow me on Instagram, you'll know how excited I am for The Wicked King! I have a hardcover copy coming in the Faecrate Hangover Recovery box, but I also preordered an ebook copy so that I can get it on release day. (And get those sweet preorder goodies!)  I loved The Cruel Prince, and I'm so excited to return to the beautiful world of Faerie again!
Illuminae – Amie Kaufman and Jay Kristoff
THis is an old one, but it's finally time for me to read it! I've had Illuminae on my shelf for years, but I've always been intimidated by the unique format and large size! Well, intimidated no longer! I'm going to dive into this one and see what The Illuminae Files have in store for me!
---
Thanks for reading! Don't forget to check back in at the end of January or early February to see if I conquered my TBR this month!
---
Follow me on Instagram for book pictures, mini reviews, and more!
Use my code STARLIGHT10 for 10% off your order at Wonderdame Bookmarks
Use my code STARLIGHT15 for 15% off your order at Clockwork Heart Co
Use my code STARLIGHT10 for 10% off your order at Fella and Bella
Use my code STARLIGHTREADS20 for 20% off your order at Literary Book Gifts