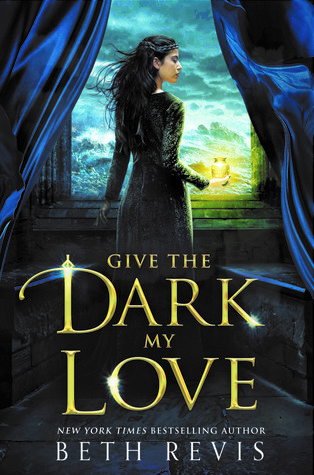 Date Started: 10/1/18
Date Finished: 10/12/18
Publication Date: 9/25/18
Genre: YA Fantasy
POV: Dual 1st Person POVs
Rating: 5/5
Thoughts:
I am blown away.
Exactly one week ago, I finished Give the Dark My Love by Beth Revis, and I am still not over how amazing this book was. If you know anything about me, you'll know that I'm a huge fan of Beth Revis. Her Across the Universe YA sci-fi trilogy solidified her as one of my favorite authors. When I heard that she was coming out with a new book, this time a YA fantasy, I knew that I had to get my copy asap. I ended up getting it through a book subscription box, Shelflove Crate.
First of all, I should say that the description of the book doesn't really convey what a gem it truly is. Reading it the first time, I thought I'd be getting into some YA book set mostly at a school, with plenty of romance, not unlike Vampire Academy or the like. Instead, we get a book that's dark, serious, and tragic. This is no light, fluffy read. The words "Dark" and "Love" are both in the title, but the dark definitely wins out here.
The book starts a bit slow. We meet Nedra's family on the day that she leaves home to attend the prestigious Yugen Academy, where she plans of studying medicinal alchemy. She's got a scholarship for a single year, so she hopes to learn as much as she can so she can help her beloved Lunar island battle a mysterious illness called the Wasting Death, which is beginning to spread in the north. Nedra, a scholarship student, is set up as an outsider from the start, and she remains that way throughout.
The book progressively grows darker and darker as things go along. There's illness, politics, and while there is romance between Nedra and Grey, our two POV characters, it's repeatedly pushed aside, mainly by Nedra.
I must say, the romance was quite refreshing for me! While it originally felt a bit rushed and too much like insta-love, I came to appreciate it. While both characters were attracted to one another pretty early one, Nedra was very dedicated and focused on her studies. She's a very serious character who knows what she needs to do. It's her dedication to helping others that leads her down the road to darkness, and honestly, that was quite interesting! Nedra is definitely an anti-heroine, driven by grief and duty and dedication, but she's a character that you cant help but root for. This might be because we're in her head for the majority of the book, which might skew our thoughts a bit, but by following her from start to finish, it's easy to see that she has good intentions in everything she does.
In some ways, I don't think that Grey's point of view chapters were really necessary. It's interesting to see Nedra from the outside, but at the same time, I don't think that they really added anything in particular. Looking back, I cared mostly about Nedra's POV. I get why Grey had a POV, but I definitely could have gone without his POV the entire time.
Despite that, I absolutely adored this book! While it starts about a bit slow, the ending is absolutely packed with action and a million twists and turns! There's so much going on. If you find the beginning to be boring, just hold out, because it gets really good! I don't want to give any spoilers, but the last half just gets to you. Beth Revis truly has a way with words. There's plenty of suspense and intrigue the entire novel, so you'll find yourself flipping pages.
All-in-all, I highly recommend Give the Dark my Love to anyone who loves Beth Revis's other novels, or to anyone looking for a dark YA fantasy where romance isn't the main focus. It's definitely one of my favorite reads of 2018.
---
Follow me on Instagram for book pictures, mini reviews, and more!
Use my code STARLIGHT15 for 15% off your order at Clockwork Heart Co
Use my code STARLIGHTREADS20 for 20% off your order at Literary Book Gifts