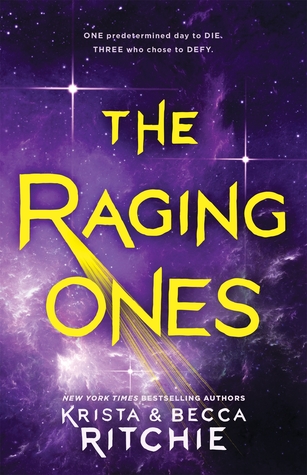 Date Started: 8/4/18
Date Finished: 8/12/18
Publication Date: 8/14/18
Genre: YA sci-fi
Rating: 4/5
Thoughts: When I first read the synopsis for The Raging Ones, I knew I was in for something very unique and interesting. A strange link between strangers, a world of ice, and predetermined dates to die? Count me in.
I was originally a bit worried when I saw it described as a "sci-fi romance" on Goodreads, but I really didn't get this. You'll see more strong bonds of friendship, with just a little bit of romance brewing. I imagine that it'll be developed more in future books.
The story is told from 3 alternating POVS – Franny, Court, and Mykal. I'm not always the biggest fan of switching POVs, but in this case, considering the link and their vastly different personalities, it worked, as it was cool to see how the three protagonists sensed one another through their strange bond. They're all very complex, especially Court, who's been through quite a lot.
One problem I did have with the POVs was that I felt like Mykal wasn't as important. While that's not true at all, I often felt like his chapters were shorter, or that he was inferior to Court and Franny. I really hope that in the next book he'll be able to blossom more, because his character is quite interesting.
The world of this story is quite interesting, and I really hope to learn more about it. Throughout the book we learn about different regions, types of people, naming conventions, religions, and the planet itself. Slang terms are created and used in ways that are easy to infer. I was occasionally a bit confused, but I'm sure that everything will be resolved in the next book(s).
The pacing was alright. There were a few weird time jumps that confused me a bit, and most new chapters utilize a jump in time or place, which isn't bad at all, but could just be a bit jarring at times. There were some slower parts during the first section. Things pick up more in the second half, but even then, there were some moments that felt a bit boring too. It really picks up toward the end. I read the last 10 percent of the book very quickly.
No spoilers, but the ending of this book is probably the biggest WTF moment since the end of Catching Fire. It's definitely a huge cliffhanger that will leave you waiting for the next book, which probably will come out sometime next year.
All-in-all, I really enjoyed The Raging Ones. Aside from some slower moments, there was always something exciting going on. I'm excited to read the next book when it comes out, because I'm sure it'll provide the answers I want… and save us all from the cliffhanger at the end!
*I recieved an e-arc of this book via Netgalley and the publisher. All thoughts are my own.*
---
Follow me on Instagram for book pictures, mini reviews, and more!
Use my code STARLIGHT10 for 10% off your order at Beacon Book Box!