Hello Starlight-Readers. We're about a week into August already, which means that we've already gotten some great book releases already, like Pillow Thoughts II from last week! There are plenty of great books coming out this month, but here are 5 that I'm so excited for this month!
---
1. The Raging Ones by Krista and Becca Ritchie – 8/14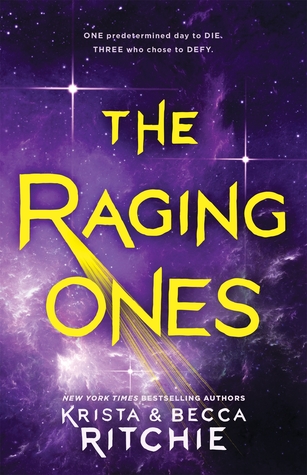 The Raging Ones comes out next Tuesday, and I'm so excited for it! I'm actually currently reading this one, and I'm almost done. I'll definitely have a review up as soon as I finish it, which will hopefully be today or tomorrow. Check back for that! I received this one on Netgalley.
2. Mirage by Somaiya Daud – 8/28
I also received this one on Netgalley. I've heard really great things about it so far, so I'm excited to read it! I'll probably start it as soon as I finish The Raging Ones. The cover looks really pretty as well.
3. Seafire by Natalie C. Parker – 8/28
Pirates? An all-woman crew? Feminism? Count me in! I haven't started this one yet, but a friend of mine read it and loved it, so I'm quite excited to get to this one! Also, can we talk about that cover??? Gorgeous!
4. Fresh Ink: An Anthology – 8/14
I'm not always the biggest fan of anthologies, but this one looks promising. It features some of my favorite authors, like Melissa de la Cruz and Nicola Yoon. This book is partnered with We Need Diverse Books, so I'm especially down for it. Also, it's not all short stories! There's also a short graphic novel and a one-act play in it, so I'm even more excited to see some different genres of literature blended in.
5. A Touch of Gold by Annie Sullivan – 8/14
Okay, let's get this out of the way first: The cover is STUNNING. A Touch of Gold looks quite interesting. It seems like sort-of retelling, sort-of sequel to the King Midas story of Greek Mythology. I don't know too much about this yet, but I'm excited to read it and find out
---
Thanks for reading! Also, check back next month for another upcoming book list. A lot of books on my TBR list are coming out in September and October, so my list might have to be longer next time!